The Witcher
The Witcher is a fantasy drama television series developed by Lauren Schmidt Hissrich. It is based on Polish writer Andrzej Sapkowski's book series of the same name. The series is set in "the Continent," a fictional landmass inspired from the medieval period, and follows Geralt of Rivia and Princess Ciri. The Witcher debuted on Netflix on December 20, 2019 and stars Henry Cavill, Freya Allen, and Anya Chalotra in leading roles. Season 2 of the show started streaming on December 17, 2021. Netflix renewed the show for a third season, filming for which is underway.
The Witcher: Season Wise Plot
Season 1
The Witcher season 1 has 8 episodes based on the short story collections, The Last Wish and Sword of Destiny, that preceded The Witcher book series. 
In this season, we meet Geralt of Rivia, who is a witcher, a monster hunter condemned by the society for the grim nature of the work. We also meet Cirilla or Ciri, princess of Cintra, who flees her kingdom upon the wishes of her dying grandmother, Queen Calanthe, after an invasion by the Nilfgaardian army. We also meet Yennefer of Vengerberg, a sorceress, and Jaskier, a bard who accompanies Geralt on his journeys.
Cirilla and Geralt are linked by destiny before her birth after the latter invoked the "Law of Surprise" in exchange of payment for saving Cirilla's father's life. Meanwhile, Geralt and Yennefer were once lovers and part ways on bitter terms. Throughout the season, we see Cirilla, Geralt, and Yennefer at different stages of their lives, in separate timelines, until their paths cross eventually.
Season 2
Consisting of 8 episodes, season 2 of the Netflix show follows the events of "A Grain of Truth" from The Last Wish, Blood of Elves, and the beginning part of Time of Contempt.
This season takes us deeper into the world of witchers when Geralt takes Ciri to Kaer Morhen to keep her safe. Here, Geralt trains Ciri in combat, while the two of them and the rest of witchers encounter mutated Leshy. Meanwhile, elven sorceress Francesca Findabair kidnaps Yennefer and Fringilla and task them with digging up a monolith. The trio then gets a visit from the Deathless Mother, resulting in Fringilla and Francesca joining hands to form an elven-Nilfgaardian alliance and Yennefer losing her powers.
A major part of the season focuses on the origin of Ciri's powers, which Trissa tries to teach Ciri how to control. To get her powers back, Yennefer joins hands with the Deathless Mother, who asks her to bring Ciri somewhere outside Cintra. Meanwhile, Francesca gives birth to the first full-elven baby, whose murder results in the Deathless Mother breaking out and possessing Ciri. Following the possession, Ciri kills witchers in their sleep and causes a bunch of Basilisks to enter the world. In a shocking season finale, Geralt and Yennefer manage to get the Deathless Mother out of Ciri's body and Yennefer gets her magic back.
Who plays The Witcher's role? Know about the whole cast
The Witcher has three main characters, surrounding whom the plot revolves, followed by several supporting characters.
Henry Cavill plays the titular of The Witcher, Geralt of Rivia, who was magically-enhanced to slay monsters. Geralt is the main character and has other names by which he is known, such as Gwynnbleid or the White Wolf and Butcher of Blaviken.
He befriends the bard, Jaskier (Dandelion in the books), and has a complicated romantic relationship with Yennefer. He and Ciri are linked by destiny, and he becomes a father-figure and mentor to her.
Freya Allen plays the role of Cirilla Fiona Elen Riannon or Ciri, princess of Cintra. Most of the plot of the books and the series revolves around her, as she is chased by Nilfgaardian forces and many others for her Elder blood.
She is asked to flee Cintra by her grandmother Calanthe after the invasion. At the end of season 1, she unites with Geralt, who then takes her to Kaer Morhen, where she is trained in combat. Trissa and Yennefer also train her to control her magic.
Anya Chalotra plays the other main role in the series, Yennefer of Vengerberg. She was born a hunchback in Vengerberg, she is taken under Tissaia's tutelage at Aretuza, who fixes her appearance with magic. Being quarter elven, she becomes a powerful sorceress.
In season 2, she loses her magic after a visit from the Deathless Mother, with whom she later colluded to get her powers back. She meets Ciri mid season 2 and teaches her to open a portal and causes Ciri's possession by Deathless Mother.
Supporting character cast
Joey Batey as Jaskier, a bard who travels with Geralt, sings in praise of witchers and

wears fashionable hats

.




Eamon Farren as Cahir Mawr Dyffryn aep Ceallach, Nilfgaardian army commander




MyAnna Buring as Tissaia de Vries, Yennefer's mentor and Rectrix at Aretuza




Mimî M. Khayisa as Fringilla Vigo, a sorceress who trained at Aretuza with Yennefer
Anna Shaffer as Triss Merigold, a sorceress, who later trains Ciri to control and use her magic




Royce Pierreson as Istredd, a sorcerer and historian, Yennefer's friend and former lover




Wilson Mbomio as Dara, a refugee elf boy who Ciri befriends after fleeing Cintra




Mahesh Jadu as Vilgefortz of Roggeveen, a sorcerer, who tries to halt Nilfgaardian army's invasion in Sodden




Tom Canton as Filavandrel, the last king of the elves




Mecia Simson as Francesca Findabair, an elven sorceress




Kim Bodnia as Vesemir, the oldest witcher alive and Geralt's mentor
Recurring cast
Jodhi May as Queen Calanthe




Adam Levy as Mousesack




Björn Hlynur Haraldsson as King Eist Tuirseach




Lars Mikkelsen as Stregobor




Therica Wilson-Read as Sabrina Glevissig




Shaun Dooley as King Foltest, the king of Temeria




Terence Maynard as Artorius Vigo




Judit Fekete as Vanielle of Brugge




Paul Bullion as Lambert




Yasen Atour as Coën




Ania Marson as Voleth Meir




Graham McTavish as Sigismund Dijkstra




Ed Birch as Vizimir, the king of Redania




Chris Fulton as Rience




Aisha Fabienne Ross as Lydia van Bredevoort




Kaine Zajaz as Gage
Guest stars
Emma Appleton as Renfri of Creyden




Mia McKenna-Bruce as Marilka




Tobi Bamtefa as Sir Danek




Maciej Musiał as Sir Lazlo




Natasha Culzac as Toruviel




Amit Shah as Torque




Julian Rhind-Tutt as Giltine




Gaia Mondadori as Princess Pavetta




Bart Edwards as Duny, the "Urcheon of Erlenwald" / Emperor Emhyr var Emreis




Josette Simon as Eithne




Nóra Trokán as the Dryad General




Marcin Czarnik as Ronin Mage




Blair Kincaid as Crach an Craite




Lucas Englander as Chireadan




Jordan Renzo as Eyck of Denesle




Ron Cook as Borch Three Jackdaws




Jeremy Crawford as Yarpen Zigrin




Ella-Rae Smith as Fola




Francis Magee as Yurga




Anna-Louise Plowman as Zola
Frida Gustavsson

as Ma/Visenna




Kristofer Hivju as Nivellen




Agnes Born as Vereena




Basil Eidenbenz as Eskel




Jota Castellano as Gwain




Nathanial Jacobs as Everard




Chuey Okoye as Merek




Kevin Doyle as Ba'lian




Niamh McCormack as Lara Dorren




Adjoa Andoh

as Mother Nenneke




Simon Callow as Codringher




Liz Carr as Fenn




Rebecca Hanssen as Meve




Richard Tirado as Demavend




Edward Rowe as Henselt




Luke Cy as Ethain




Sam Hazeldine as Eredin




Cassie Clare as Philippa Eilhart
Know about the filming locations from The Witcher
The Witcher is primarily filmed in Central and Eastern Europe countries like Poland, Italy, Hungary, Slovenia, Spain, Croatia, and Austria, along with parts of London. Some of the notable outdoor filming locations throughout the two seasons of the series include: 
Vajdahunyad Castle




Fort Monostor and nearby forest area 




Hills of Csákberény 




Skanzen Village Museum 




Burg Kreuzenstein




Roque de Santo Domingo




Kiscelli Museum




Natural Dune Reserve of Maspalomas




Ogrodzieniec Castle




Cathedral Cave




Hodge Close Quarry




Low Force Waterfall




Bourne Wood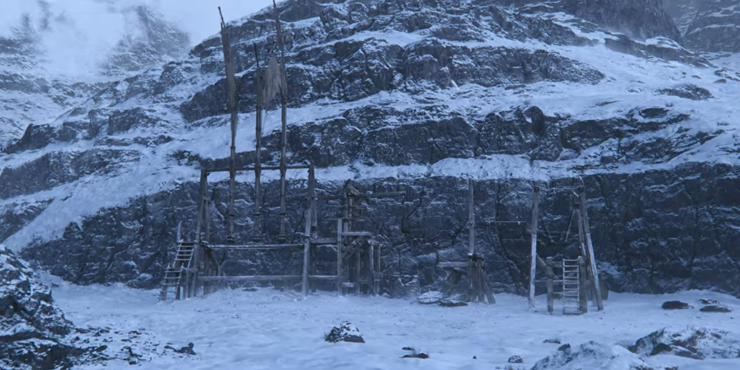 Aside from the outdoor locations, the series was also filmed in studios. For instance, the fight sequence between Renfri and Geralt from season 1 was filmed in the Mafan Film Studios in Budapest. Similarly, some of the Cintra scenes from season 1 were filmed within the Origo Studios. 
Arborfield Film Studios was the home to much of season 2 filming. Thus, the variety of villages in the season were built and filmed in the studio, most notably Geralt's home, Kaer Morhen. Post filming the previous season, the show now moved to a new studio: Longcross Studios.
Fight sequences in The Witcher
Fight scenes in The Witcher have received much acclaim for the realistic and stylish choreography. Some of these sequences, especially in season 1, were choreographed by Game Thrones star, Vladimir Furdik. A highlight of his choreography is the Kikimora scene that season 1 opens with, which is not in the books. For this scene, Furdik spent weeks in the gym, creating his version of the monster and creating a fight sequence. Notably, the Mission Impossible: Fallout fame Wolfgang Stegemann choreographed the Renfri–Geralt fight.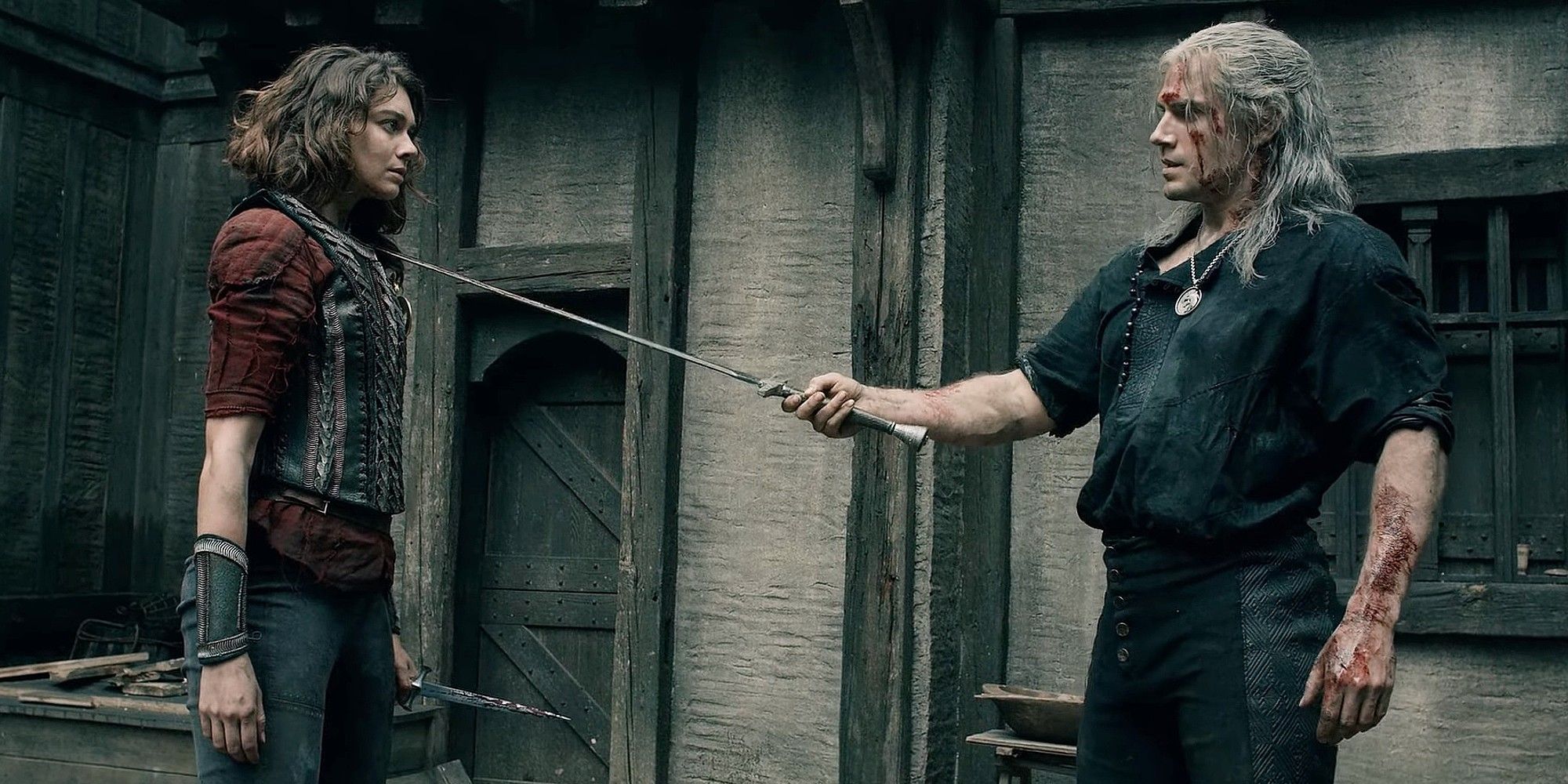 Apart from the scenes, Henry Cavill's swordsmanship also received much praise, with longsword experts calling it, "believable." Cavill was able to bring about the subtle details of Geralt's fighting style to life. For instance, the misdirection, straight thrusts, and pirouetting. Some of the moves also have an Eastern influence like the reverse grips.
If you loved all the fight sequences in the show, this writeup highlights the top 6.
Everything to know about season 3 of The Witcher
Filming for season 3 of The Witcher commenced on March 31st, 2022, a year after the commencement of season 2 filming. The production is likely to last until fall of 2022, with an expected release of Spring 2023. We already have a shoot schedule of the season, with the filming commencing at Laghi di Fusine, Italy. Since the filming began, we have been receiving constant updates, from new directors to cast additions.\
Since season 2 marked the beginning of The Witcher book 2, Time of Contempt, season 3 will likely continue adapting the book. Therefore, we can expect the tensions between Northern Kingdoms and Nilfgaard to increase in the next season. However, as was the case with previous seasons, we can expect some deviation from the book's plot.
The Witcher video game is also available
ADVERTISEMENT
Article continues below this ad
Before Netflix picked up The Witcher for a series adaptation, the book series already interested many filmmakers and gaming companies. Therefore, 2007 saw the start of a fantasy action role-playing game series developed by CD Projekt. However, unlike the series adaptation, which retells the books' stories, the games act as a sequel to the books. The game series has critical acclaim and is a commercial success.
At present, there are three The Witcher games: The Witcher, The Witcher 2: Assassins of Kings, and The Witcher 3: Wild Hunt. There are two expansion packs—The Witcher 3: Wild Hunt – Hearts of Stone and The Witcher 3: Wild Hunt – Blood and Wine—along with a spinoff game, Thronebreaker: The Witcher Tales.
ADVERTISEMENT
Article continues below this ad
A fourth installment of the game is currently in development.
[table id=11 /]