When James Corden Made Former Royal, Prince Harry Pay the Bus Fare in Order to See Los Angeles
Published 09/14/2022, 4:00 PM EDT
We have always had a very tight and formal impression of the British Royal Family members. They are always dressed up in formal and are surrounded by an army of guards. We can hardly imagine them doing anything embarrassing. But don't worry. We have got you a whole series of events where you will see one of the Royal family's members go bananas. You must be guessing who he or she is. The answer is clear. It is none other than the Duke of Sussex, Prince Harry.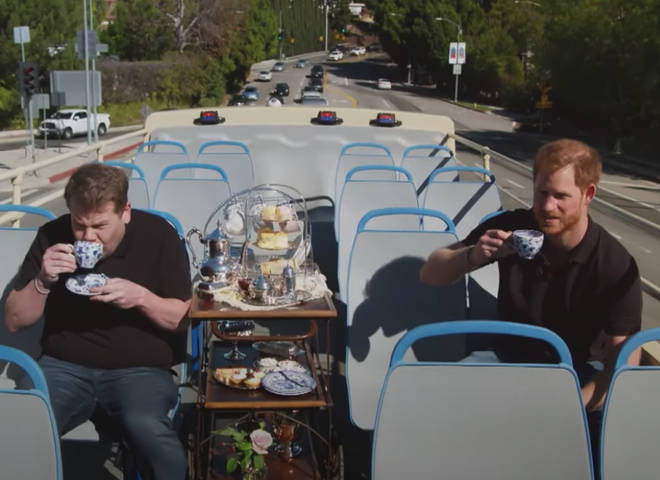 In an old video of The Late Late Show With James Corden, the host and the prince can be seen having unlimited fun. The video is from the year 2021 when the prince had recently been shifted to Los Angeles. Prince Harry went on a ride in an open double-decker with his British pal James Corden, who made the prince pay for the ticket.
ADVERTISEMENT
Article continues below this ad
Prince Harry had never been on a bus before
As James Corden went on to pick Prince Harry, the prince was surprised that he didn't bring the Range Rover. Our super smart host answered that he wanted to show him LA, in the real Angelino style. Harry, later on, admitted that he had never been on a bus before.
As the bus stopped for him, James asked him to hop on and even asked Harry to "pay his own fare". Now, this is one of those rarest of rare moments where you will see a prince helpless. Harry told James that the Royals don't carry cash.
On the bus, James offered the Prince a tray full of English breakfast items and even made him a cup of tea. But fate didn't seem to be in Harry's favor. While moving ahead, the bus hit a huge bump, and both of them spilled their tea. Moreover, the trolly and most of its items fell over the prince.
ADVERTISEMENT
Article continues below this ad
Surprisingly, Meghan Markle, the Duchess of Sussex, made a brief appearance in the episode. No, no, she didn't actually get on the bus. Her husband made a video call, and that is how she joined the show.
The Duke of Sussex participated in a lighthearted segment with the presenter of The Late Late Show in which he rode an open-top bus, went to a location from The Fresh Prince of Bel Air, and went through an obstacle course. The prince also discusses his life as a royal, his relocation to LA, and his opinion of The Crown in the 17-minute video.
ADVERTISEMENT
Article continues below this ad
Have you watched The Crown yet? If not, watch it and let us know what you think of the Royal Family in the comments.