When Henry Cavill Took a Life-Changing Decision With His Girlfriend Gina Carano
Published 09/20/2022, 7:00 AM EDT
While The Witcher star is the second most handsome man in the world, his female fans fantasize about being with him. However, the star has been busy creating his career path stronger. Once, he showcased an adorable gesture in his personal life to strengthen it as well. Henry Cavill once took a big step when he was in a relationship with the MMA fighter and actress Gina Carano.
Gina Carano is an American actress and former mixed martial artist. She competed in EliteXC and Strikeforce from 2006 to 2009, compiling a 7–1 record. She has starred in many popular movies, including Haywire, Deadpool, Fast and Furious 6, and many more. In 2013, when she got back together with The Witcher star, they took a big step in their relationship.
ADVERTISEMENT
Article continues below this ad
When Henry Cavill took the big adorable step in his relationship with Gina Carano
After being apart for a brief period, Cavill and Carano got back together and started dating again in 2013. The couple wanted to stay together again, and they took a big step the following year. In 2014, they bought an adorable Akita puppy from Big Bear Akitas, a breeder in Arkansas. The Man of Steel star is a great protector and nurturer of this cute little puppy.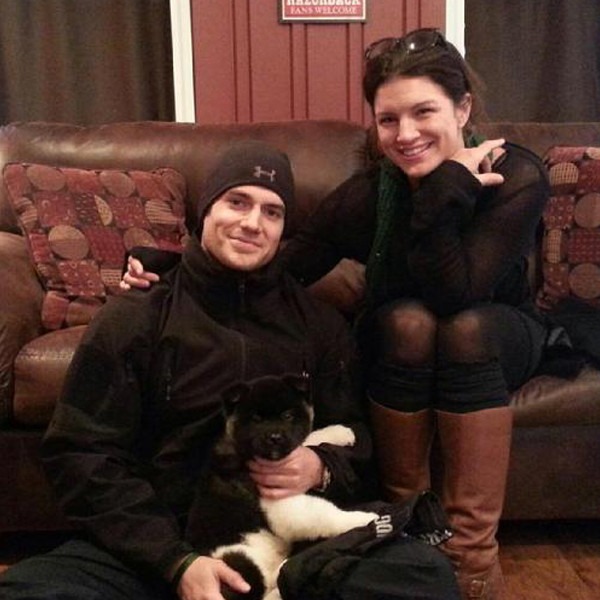 The family breeders couldn't believe it when they added this celebrity couple to their extended family. They posted their joy and overwhelming feelings and said that it was great working with Henry and they loved meeting with Gina. They also thanked the couple for buying a pet from their house.
ADVERTISEMENT
Article continues below this ad
"It was truly an honor to add them to our extended family and thank them for their patience in meeting us and our children. It's not every day that an A-list celebrity, much less 2 celebrities, come to Beebe, AR to visit," said the family. It is adorable to see the tough Witcher being all mushy around this little puppy.
Henry and Gina started dating in 2012 fall but split up in 2013. During their hiatus, the Enola Holmes star was briefly involved with Big Bang Theory star Kaley Cuoco. In October 2013, Gina and Henry rekindled their romance before splitting, this time for good, in 2014 December. At present, he is in a happy relationship with Natalie Viscuso.
ADVERTISEMENT
Article continues below this ad
Are you also a dog lover? How do you feel watching this tough and serious Witcher getting soft around a puppy? Share your feelings with us in the comment box.