'The Sandman' Creator Neil Gaiman Warns Fans To Not Let Their Cats Do This One Thing
Published 08/21/2022, 3:30 PM EDT
Behold! The feline indoctrination has started. Seems like the Sandcat or the cat version of the Sandman or the Cat of Dreams has had enough of humans. Apparently, Netflix blessed fans with a bonus episode of their favorite fantasy series and Neil Gaiman's greatest production. Divided into two halves, the episode adapts two other most loved stories from Gaiman's comic. While the second part tells the tale of Calliope, the first part, Dream of a Thousand Cats, is what we are here to caution you about.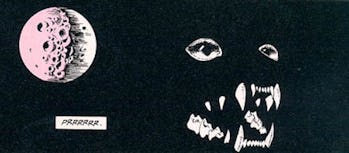 A long time ago, when the earliest humans lived in caves and meandered from one place to another for survival, the great and powerful cats were kind enough to provide us with shelter and daily bread. However, on one fine night, all of this changed. The entire species of Homo Sapiens dreamt the same dream to overthrow the feline rulers and become barbarous of all living; rest assured is history. Thankfully, for all these years, it seemed like the family of Felidae had made peace with their human superiors. Perhaps, they found comfort and love in their fellow human friends. Or that night wiped the memory of their golden era, making them submit themselves to humankind.
ADVERTISEMENT
Article continues below this ad
However, the bonus episode is here to remind them of the glorious life their ancestors lived, and Gaiman warns fans to keep their cats from doing this one thing if they want their pets to stay the same way!
Neil Gaiman does not want cats to watch the bonus episode of The Sandman for this hilarious reason
Notably, Hisko Hulsing directed and produced the first half of the 11th episode, Dream of a Thousand Cats. It sees a feline prophet telling the tale of their ancestors and how they ruled humans after the harsh owners of a cat threw her babies in the lake. The Siamese then informs her assembly that if they all wished to govern Earth once more, their wish would be granted, given a thousand cats dream the same dream. The kitten returns home at the conclusion of the tale, daydreaming of being king of the cats!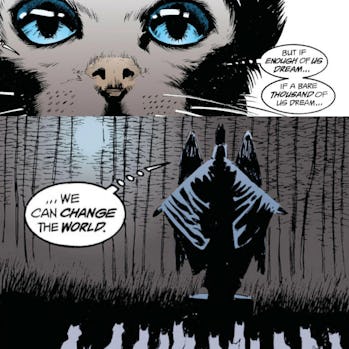 Fans immediately pick on the trippy and whimsical narrative. They flooded the Twitter world with pictures of their cats, claiming that they were aware of the prophecy! Neil Gaiman hilariously responds to the fan reactions, asking them not to allow their cats to watch the episode before it is too late. Here, have a look at the banter yourself:
ADVERTISEMENT
Article continues below this ad
Well, it seems like it actually is too late, and we are doomed already! Neil Gaiman himself accepts the fact.
ADVERTISEMENT
Article continues below this ad
Is your cat acting weird lately after you streamed the bonus episode on Netflix? Do you think they are actually aware of the prophecy? Do let us know in the comments below.