"So divisive": When Ryan Reynolds Addressed One Direction Hiatus, His Love for Zayn Malik, and Harry Styles
Published 08/30/2022, 8:30 AM EDT
The Adam Project and Red Notice actor Ryan Reynolds is majorly known for playing Deadpool. A few months back, Ryan expressed his love for Zyan Malik in one of his interviews. He recently discussed his attempts to get One Direction to reform. The interview began with him talking about legendary Canadian singer Celine Dion. He admired her work and was grateful that he got to work with her. The music video is named "Ashes" and was made for Ryan's film Deadpool 2.
Ryan also pushed the fact that Celine Dion is Canadian. Moving on, he even commented about the fact that people think he and Ryan Gosling look alike. He thinks both of them being Canadian is one of the huge factors behind that. Moving on, let's talk about Ryan Reynolds's love for Zyan Malik. And his love isn't limited to Zyan. Let's see who else does he like.
ADVERTISEMENT
Article continues below this ad
ALSO READ: "That was my biggest fear…" Ryan Reynolds Shares His Feelings About Making a Comeback as Deadpool
Ryan Reynolds is an absolute fangirl
After a fan questioned Ryan about his feelings after Zayn Malik's departure, Ryan discussed some tweets he had made a few years before and said he wanted One Direction to rejoin Zayn Malik. He continued by expressing his admiration and liking for Zayn and the other One Direction members. "I am a full 'Directioniteere'," Ryan said.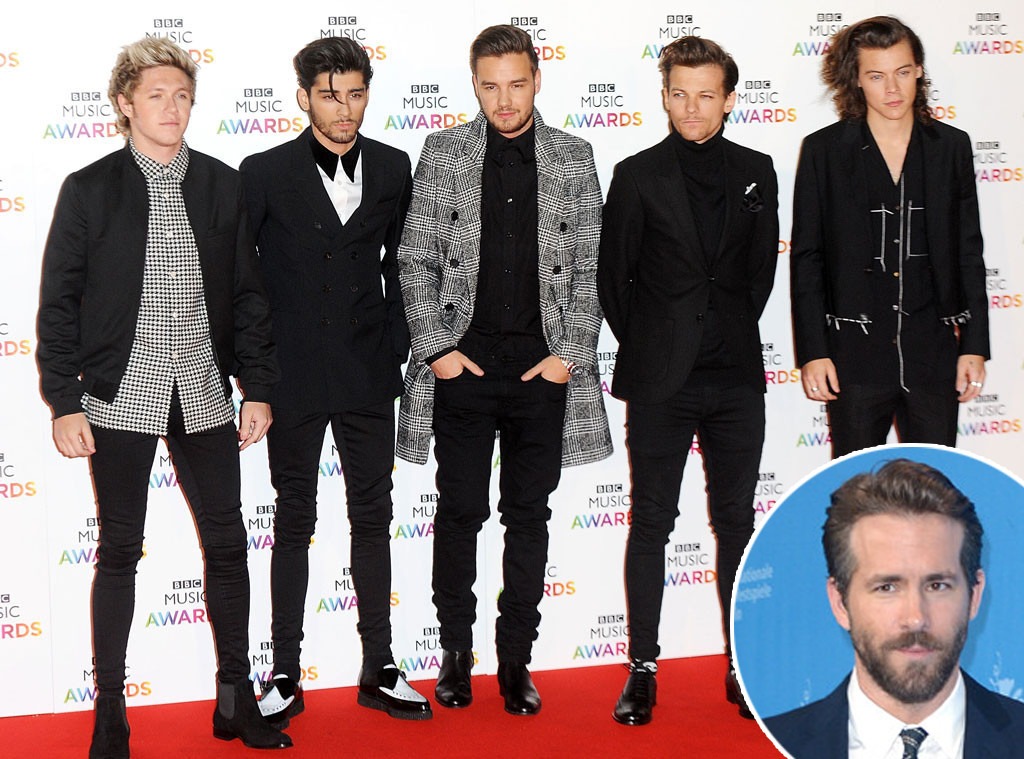 Although he's happy that all the members are happy and are doing well alone. But he also really wants them to get back together. Ryan even made the decision to tweet Barak Obama, the previous US President, in response to Zayn. Check out Ryan just being himself.
Mr. President: Is there a sustainable, long term plan for carbon reduction? And if so, why would Zayn just leave? https://t.co/1HezPZCUlW

— Ryan Reynolds (@VancityReynolds) May 18, 2015
Another tweet where Ryan refused to believe that Zyan is leaving One Direction. Once again using his humor with a tinge of pain, he accepted the news.
"@hales912: how sad are you about zayn leaving one direction?" I refuse to believe this. That's like Taylor Swift leaving Taylor Swift.

— Ryan Reynolds (@VancityReynolds) March 29, 2015
ADVERTISEMENT
Article continues below this ad
Well, who knew that Ryan would be such a huge fan of the band? No doubt One Direction has made some of the best songs out there and Ryan "loved all of them."
Apart from that, when Hugh Jackman, his close friend and co-star in X-Men Origins: Wolverine, was questioned about him, Ryan said, "I've got nothing bad…the only bad habit he has is not playing Wolverine again." 
ADVERTISEMENT
Article continues below this ad
Given that Ryan is such a big star, his love for One Direction seems completely adorable. What do you think? Should One Direction be reunited? Let us know in the comments.