2022 Instances That Prove Ryan Reynolds is Not Just an On-Screen Hero But The Hero of Vancouver As Well
Published 12/27/2022, 10:30 PM EST
It never gets old for Ryan Reynolds to win our hearts. Numerous times, the actor has shown that he does not need to be acting in order to command attention. Just listening to him giving interviews or watching him do whatever he is doing becomes a feast for our eyes. Seemingly, this year too, the Canadian actor has proved to be nothing less.
ADVERTISEMENT
Article continues below this ad
A treasure trove of talent, Reynolds is certainly a man of many credits. From venturing into the sports business, roasting his beautiful wife every time he gets the chance, giving out some strong parenting goals, and announcing Deadpool 3. The Adam Project actor has certainly made this year a little more fun and a little less dull. And as 2022 is meeting its end, it is the perfect time to recall and commemorate some of the best Ryan Reynolds moments, especially those he brought to his born city, Vancouver.
ADVERTISEMENT
Article continues below this ad
Best Ryan Reynolds moments throughout 2022
The year kicked off with Ottawa Mayor wanting to honor the Vancouver-based actor, Ryan Reynolds, by naming a street after him. Reynolds appeared to go along with it despite giving a "hard pass" to a Vancouver petition that had the same objective.
It's clear that Ottawa has a special place in Ryan's heart – and in his honour, I'll be bringing forward a motion later today to have a street named after him.

Ryan Reynolds Way will be located in a new subdivision in the east end. Look forward to seeing it open soon! pic.twitter.com/W1QNtoOgwK

— Jim Watson (@JimWatsonOttawa) January 26, 2022
And just a few days later, the 46-year-old provided a sneak peek into his fictional flick, The Adam Project. The film was shot extensively in British Columbia. Notably, Bob Kronbauer, Editor-in-Chief of Vancouver Is Awesome, traveled to ten of the film's locales throughout the province to celebrate the movie's success. He also shared all about the trip on the outlet's official TikTok page.
Furthermore, if we fast forward to March, Reynolds made the day for his native city as he gave a shout-out to one of the restaurants there, the long-standing Kerrisdale Greek restaurant Minerva, which he also tagged to be his "favorite in the world."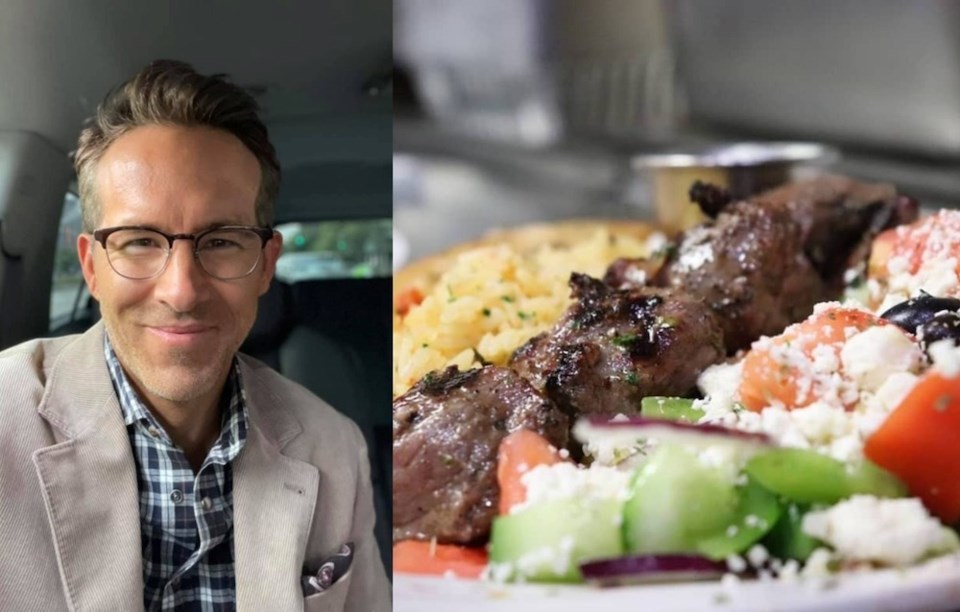 Soon after, the famous couple, along with Regina King and Lin-Manuel Miranda, headlined the annual Met Gala. At the gala, Reynolds displayed his husband goals. The pair also revealed that they would be welcoming a new member of their family in 2022.
The national treasure of Canada
ADVERTISEMENT
Article continues below this ad
And well, how can we forget the time around April Fool's when the people of his hometown declared Reynolds to be a "national treasure." Being known for his witty repertoire, Canda Scouts also claimed the Hollywood home ground weight as the Scout badge-worthy Canadian, describing him as a "quintuple threat."
ADVERTISEMENT
Article continues below this ad
There is no doubt to the fact that the Green Lantern power couple is one of the most charitable pairs in Hollywood. And this year, they are aiming to meet a thick sum of money for the hometown-based NGO GVFB. And last but not least, let us conclude by celebrating his brewing bromance with his Deadpool 3 co-star Hugh Jackman. In the meantime, V.I.A. created a thorough Ryan Reynolds travel guide for Vancouver (in a not-creepy way, of course).
Do you also love the Deadpool mercenary as much as his Canadian hometown people? Let us know in the comments below.