Millie Bobby Brown Reveals How Blake Lively Texted Her About Her Daughter's Halloween Costume, and It Is Not Eleven
Published 10/29/2022, 5:30 AM EDT
Do you ever come across a story and feel like this is a masterpiece you need to present to the universe through your lens? Well, while most of us may not be lucky enough to have such worldwide popularity, Millie Bobby Brown sure is! The kid with telekinetic powers and a deadly gaze in Netflix's most celebrated horror fiction rose to prominence and stardom only when she was 8-years-old. And now, just a decade later, the British youth icon went on to produce the most loved British period drama in Netflix's history, Enola Holmes.
ADVERTISEMENT
Article continues below this ad
A fun, vibrant, personality-rich adventure soaked in themes of womanhood, self-discovery, and finding your way in the world, the detective fiction saw itself becoming a blockbuster hit. So much so that Brown also helmed a sequel to it. However, did you know she herself didn't know that fans and critics alike would show so much love to the story of a young aspiring female detective whom the people around her considered too outward and visionary to exist in that era?
ADVERTISEMENT
Article continues below this ad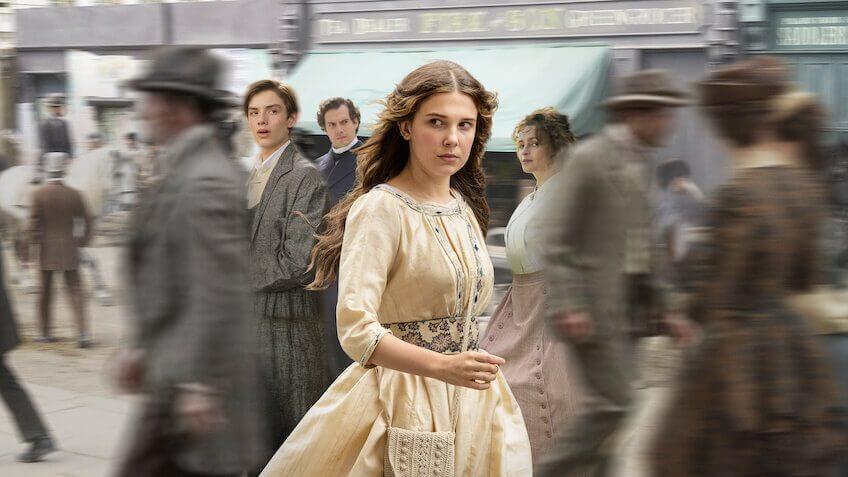 Recently appearing in the Jimmy Fallon show, the 18-year-old shared how surprised and excited she was to know that not only the sagacious but children also embraced her character whole heartedly.
Millie Bobby Brown on the unexpected success of her period drama, Enola Holmes
While the young entrepreneur and Fallon were chatting about her friendship with the very talented Mariah Carey, the host raised a toast for the immense Enola Holmes success. Brown then talked about the importance of Enola Holmes in her life, sharing how growing up, she "never had a British character to look up to," and the young Holmes is that to her.
ADVERTISEMENT
Article continues below this ad
Fallon then reminded her of the kids who equally adore her tomboy character in the period drama. The actress took the opportunity to brag about how Blake Lively once texted her, saying her daughter "basically wants to live in Enola Holmes costume." Brown then suggested the little one may not want to wear the 1800s corseted dresses for Halloween. The Florence by Mills owner also acknowledged how she loves to watch the young American girls imitating her British accent in cutest way possible.
Brown has notably always been vocal about how much she resonates with the young detective and the character will forever be one of her favorites. Catch up with her brand new adventures in the name of Enola Holmes 2, on November 4th, only on Netflix.
ADVERTISEMENT
Article continues below this ad
Meanwhile, let us know in the comments below if you are planning to dress as Eleven or Enola Holmes for this Halloween.