Here's How Ukraine Journalist Has Found Netflix Alternative in Elon Musk
Published 10/29/2022, 11:30 AM EDT
For over a decade, Netflix has been providing content to keep the masses entertained in their homes. But it turns out Elon Musk, the new Twitter owner, is giving the streaming giant tough competition lately. Netflix experienced quite a setback early this year due to a loss of subscribers and profits. It witnessed its competitors racing ahead of it in the digital streaming race. However, the content on this platform is not half as entertaining as Musk's tweets on Twitter per a journalist.
ADVERTISEMENT
Article continues below this ad
The Tesla owner's confusing tweets are leaving fellow Twitter users in a fix, as they strive hard to interpret his tweets accurately. However, a Ukrainian journalist is done doing that and is simply enjoying the banter more than they enjoy Netflix's many shows and movies.
ADVERTISEMENT
Article continues below this ad
Twitter owner Elon Musk surpasses Netflix in entertainment factor
Elon Musk had previously showcased his support for Ukraine when he continued to provide Starlink to the country amidst the ongoing war with Russia. SpaceX's satellite internet service played an integral part in the telecommunication services of the war-torn country. However, later on it was reported that it was costing the millionaire $80 million dollars and the amount will reach $100 million by the end of the year.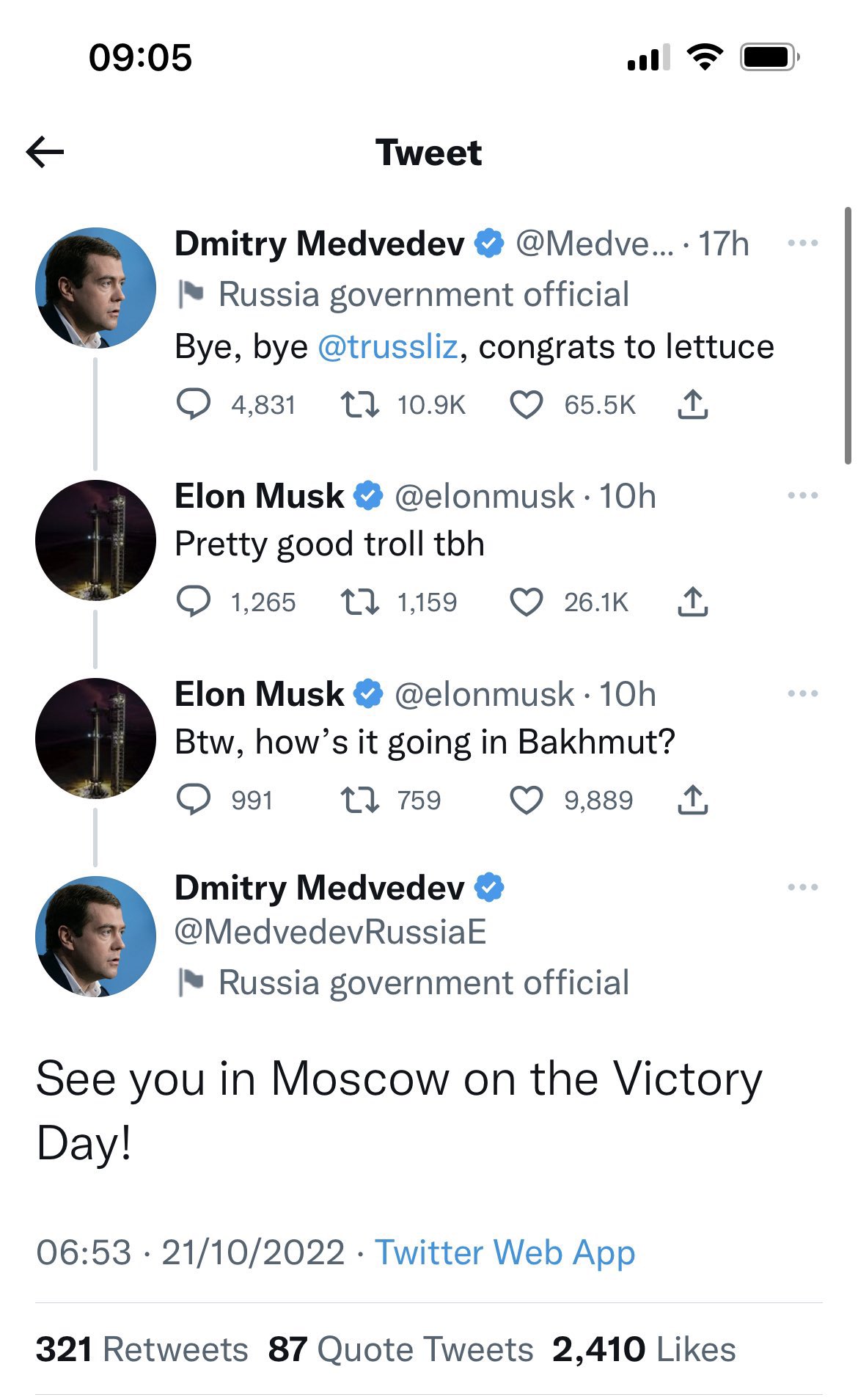 Thus, the company had requested funding from the Pentagon to keep providing its services. The Ukrainians were, hence, convinced of Musk's support. But in a recent tweet, Elon is seen complimenting the Russian president Dmitry Medvedev. It is confusing whether Musk is trolling the president for the situation in Bakhmut or is praising their progress in the region. 
Who needs Netflix when one can watch Elon Musk and Dmitry Medvedev shitposting against each other on Twitter 🍿

— Illia Ponomarenko 🇺🇦 (@IAPonomarenko) October 21, 2022
ADVERTISEMENT
Article continues below this ad
This confusing exchange has certainly left Ukranian reporter Illia Ponomarenko amused and entertained, as he compared the entrepreneur's actions to Netflix's content, placing the former at a higher place than the latter.
Apart from causing people to scratch their heads, Musk acquired Twitter on Thursday. His acquisition also came with the firing of thousands of employees, even the top executives. Chief Executive, Parag Agrawal, Legal Affairs and Policy Chief Vijaya Gadde, and Chief Financial Officer Ned Segal were all shown the door upon the entrepreneur's entry. 
ADVERTISEMENT
Article continues below this ad
Do you also think that SpaceX's owner makes for a great alternative to Netflix? And whose side do you think he is on?