'Slumberland': Jason Momoa Goes Full Johnny Depp in the $150 Million Dreamworld Family Fantasy on Netflix
Published 11/17/2022, 4:45 AM EST
The onslaught of new path-changing cinema releases on Netflix continues with Slumberland. Helmed on Jason Momoa's wide shoulders, the project was not too hefty to carry at all. The movie is inspired by Winsor McCay's comic strip, Little Nemo in Slumberland. Directed by the mastermind behind the Hunger Games film series and screenplay by David Guion and Michael Handelman, the flick was all set to attain brilliance. An impressive cast and crew were not the only thing that Slumberland had going for itself.
ADVERTISEMENT
Article continues below this ad
The massive $150 million budget of the movie will definitely get you out of your Slumberland. Moreover, watching Khal Drogo dance around and being the president of fun in slumberland is very tempting. While it is unclear if the movie lists Alice in Wonderland or Finding Nemo as its inspiration, Jason Momoa has definitely taken his from Johnny Depp.
ADVERTISEMENT
Article continues below this ad
Jason Momoa is Johnny Depp's distant relative in Slumberland
The plot of the Francis Lawrence-directed film follows Nemo, who unlike the Disney Nemo is not a fish but is just as lost. The flick is centered around little Nemo, a young girl who has recently lost her only parent. The loss of a parent as tragic as it is for anybody, especially, hit Nemo very hard considering how they lived in a lighthouse and he didn't even send her to school. After her father's death, her uncle takes her in.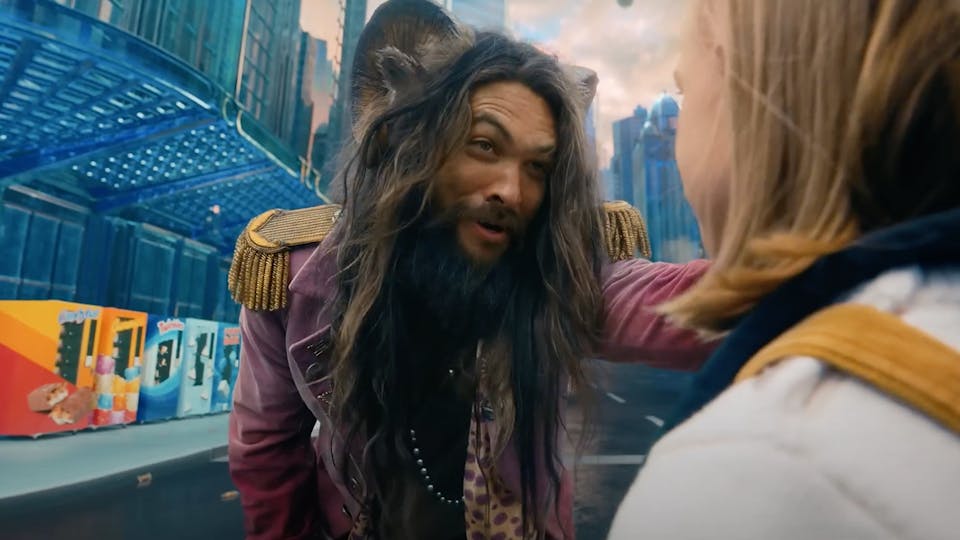 Slumberland, instead of following the usual and expected route of making the uncle have Cinderella's stepmother's persona, makes him an understanding and kind guardian. He tells her stories about her father, which leads her to discover a whole new land in her dreams.
ADVERTISEMENT
Article continues below this ad
One eventful night, her bread suddenly turns into a giant spider with no sense of traffic rules and takes Nemo back to the place she desires to be in the most: The Lighthouse.
ADVERTISEMENT
Article continues below this ad
However, instead of meeting her father, she sees a man resembling Hagrid in a pink suit by the name of Flip. Although Jason Momoa does every bit that is required from tap dancing to jumping off cliffs, fans can't help but imagine the dreamworld it would have been if Johnny Depp played it. As Nemo tries to bring her father back after Flip tells her anything she wishes for can come true in Slumberland, they jump from one imaginary land to another.
You can watch this adventure on Netflix when it releases on the 18th of November.